Assets, Acquiring and Payouts
Digital Assets on the Platform
There are two digital assets circulating on the Expload platform: XGold and XTrophy.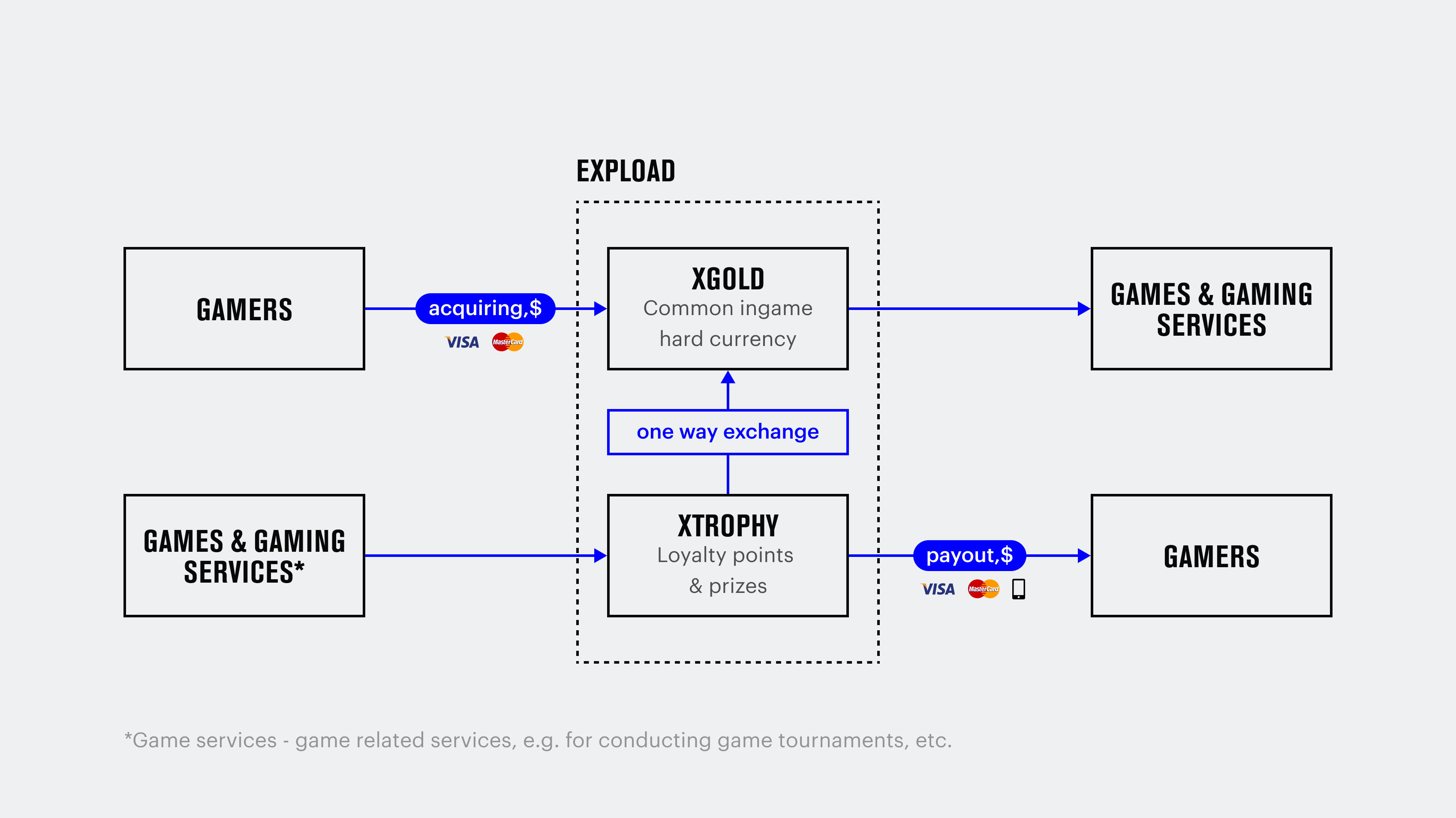 XGold is a game gold and a common in-game currency for games integrated with the platform. It is also used to pay for purchases on the Expload marketplace. XGold earned in one game (by selling items obtained during a game in the marketplace, etc.) can be used in another game or exchanged in the marketplace for the purchase of items.
XTrophy is a digital asset for easy payouts to players. XTrophy is awarded to players by games and game services as incentive points or loyalty points. XTrophy can be exchanged for XGold or withdrawn to players' bank cards or phone accounts.
Given that there is a clear distinction between the internal digital assets XGold and XTrophy, with certain restrictions imposed upon them, they cannot be recognized as surrogate funds, which enables us to integrate acquiring without undergoing KYC and implement payouts to players. The properties of each asset are described in detail below.
XGold
XGold Life Cycle:
The user acquires XGold using a plastic card.
They use XGold to buy items or to pay for in-game services.
XGold circulates on the platform: within and across the games.
Game developers can earn XGold and sell the accumulated XGold to the Expload company.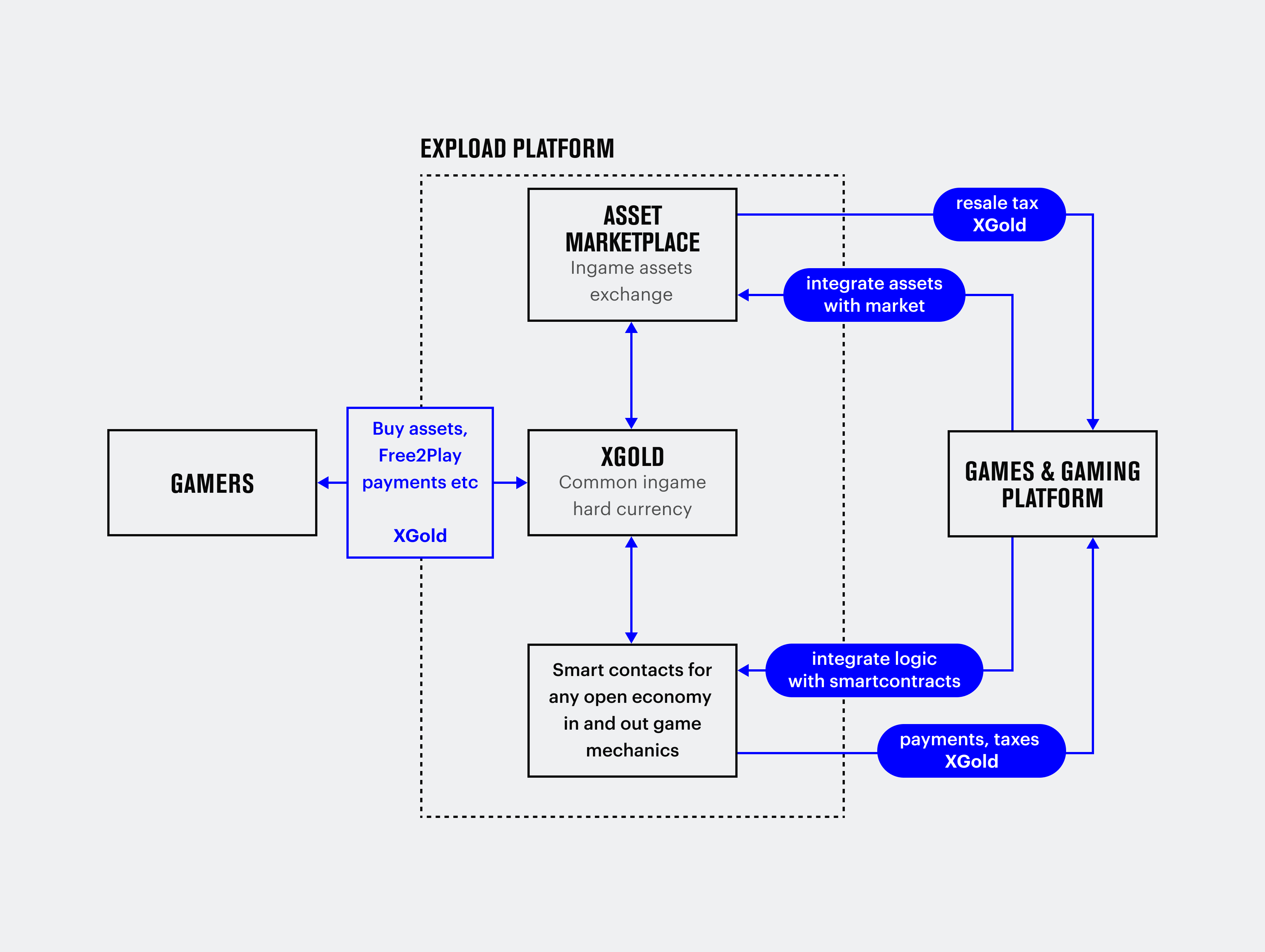 XGold has the following properties:
Sold to players via card acquiring.
Released by Expload at a fixed rate of 1€ = 1XGold at the moment of receiving funds from the user.
Can be spent in games on the platform or for in-game item purchases on the marketplace.
Cannot be transferred from player to player directly in any way except in games on the Expload whitelist or via reselling in-game items on the marketplace.
Cannot be withdrawn to bank cards or by any other means.
Can be used by players for making external purchases such as buying pizza or purchasing anything in games that are not integrated with the platform [in development].
Game developers who integrate XGold into the economy of their games and earn XGold can sell it to Expload and receive their revenue net of the platform fee.
XGold Circulation
It is intended to use XGold within the platform for the following purposes:
As an in-game hard currency used for the purchasing of paid services and items in f2p games. Its key distinction from the regular hard currency is that it is valid in all the games on the platform.
Can be used outside of the games. For instance, as a means of payment on the marketplace where players put items on sale.
Is offered as a means of payment for the services integrated with the platform. For instance, as a means of payment to streamers or as a means of mutual settlements in game clans. In this case, the payment must be made within the authorized clan service (whitelisted by Expload).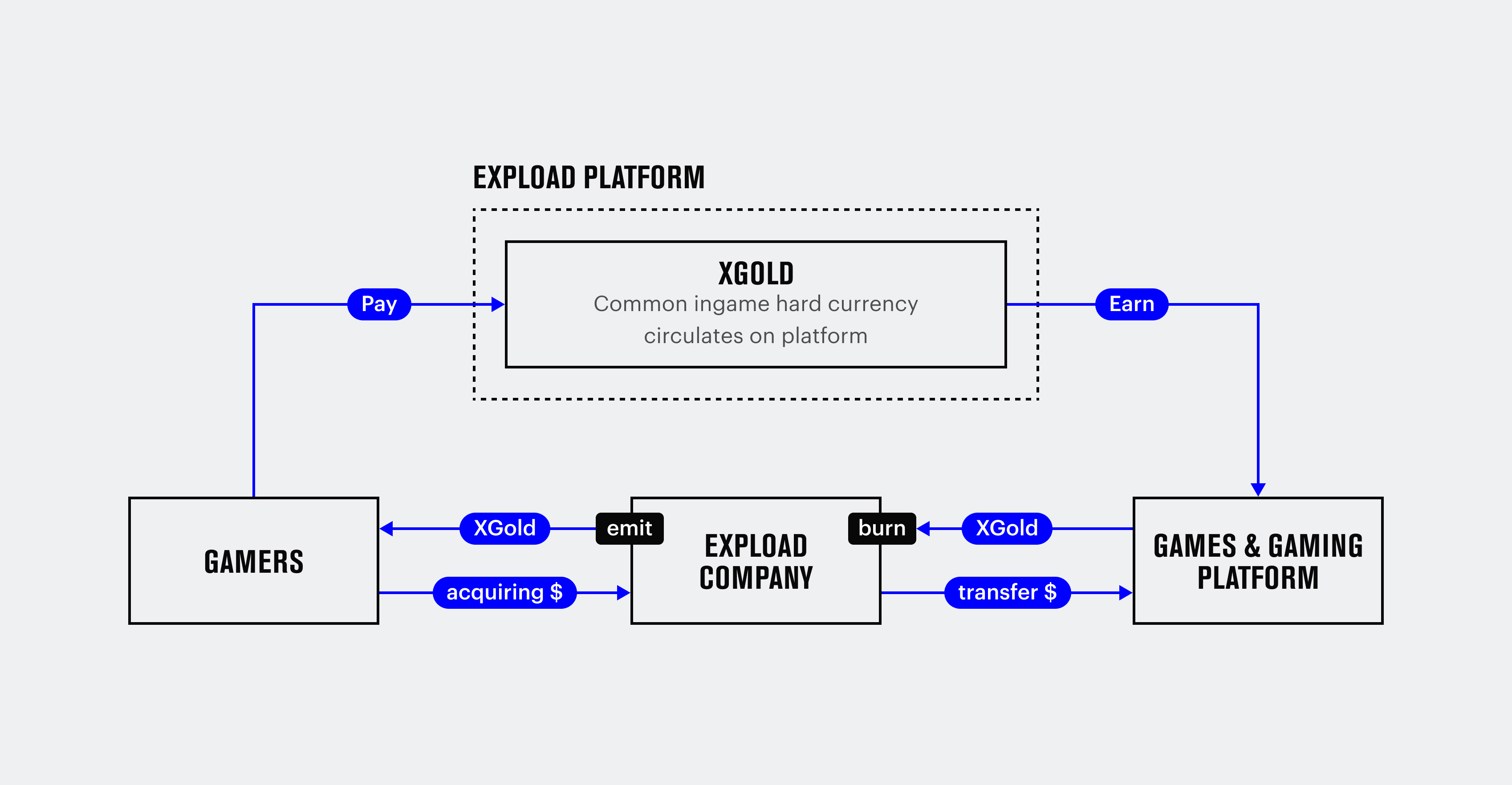 XGold withdrawal by the game developer (a legal entity):
The game developer enters into a contract for publishing a game on the platform.
The game developer determines the amount of XGold they want to withdraw.
The game developer sends a request for withdrawal to payments@expload.com
Expload performs an authorized transaction in blockchain that burns the required amount of XGold in the game developer's wallet.
Expload remits the equivalent in € by bank transfer, net of the fee.
XTrophy
XTrophy is a ready-made solution for game companies, who want to reward their players with prizes, referral payments or percentage from the selling of user generated content. Expload takes care of all the legal arrangements relating to withdrawal of prizes to individuals.
XTrophy Life Cycle:
A game company or service enters into a license agreement with Expload.
It buys the required amount of XTrophy from Expload.
It then delivers winnings and rewards to users via the integrated Expload SDK.
And forgets about the legal issues regarding individual payouts.
The user either converts XTrophy to XGold or sells XTrophy to the company and receives funds to a bank card through the interface of the Expload app.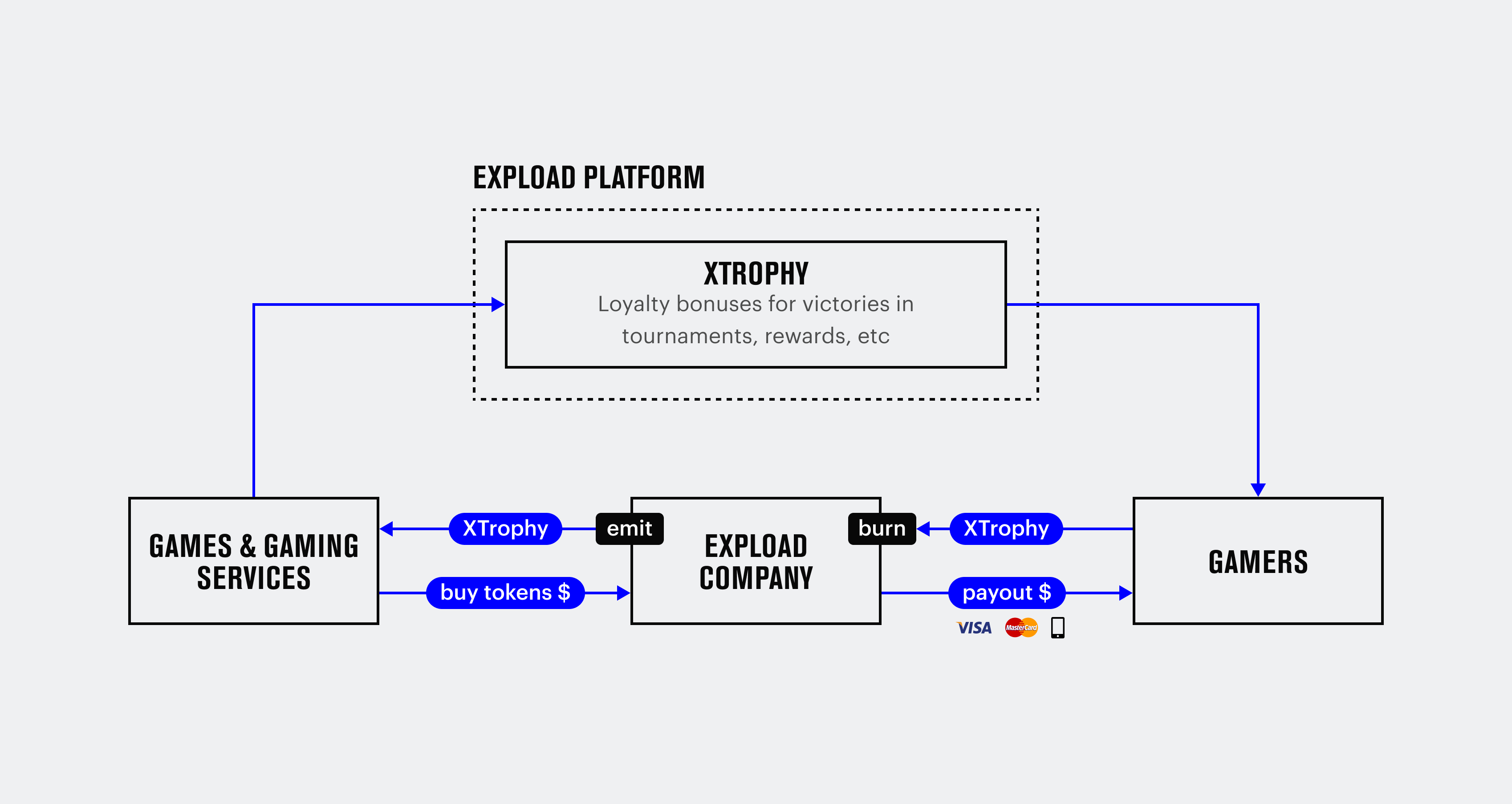 XTrophy has the following properties:
Sold solely to game developers and game services that have entered into a contract with Expload.
Released by Expload at a fixed rate of 1 € = 1XTrophy at the moment of receiving funds from legal entities either by bank transfer or by acquiring from a linked company card, with KYC completed.
Cannot be acquired by players for money, can only be won or received as a reward.
Cannot be transferred from one player to another.
Can only be sold to Expload and then withdrawn to a bank card.
XGold as a Means of Payment [in development]
Given that XGold cannot be withdrawn into cash in order to prevent it from being classified as a money surrogate and to enable users to buy it with a card without completing the KYC procedure, we are developing a technical solution to use XGold as a means of payment.
The life cycle of an external payment using Expload:
The user opens an app or a website of a Merchant integrated with the Expload payment module.
Sees the price displayed in XGold and pays.
XGold is then burnt on the side of Expload and the funds that secure this digital asset are transferred to the Merchant.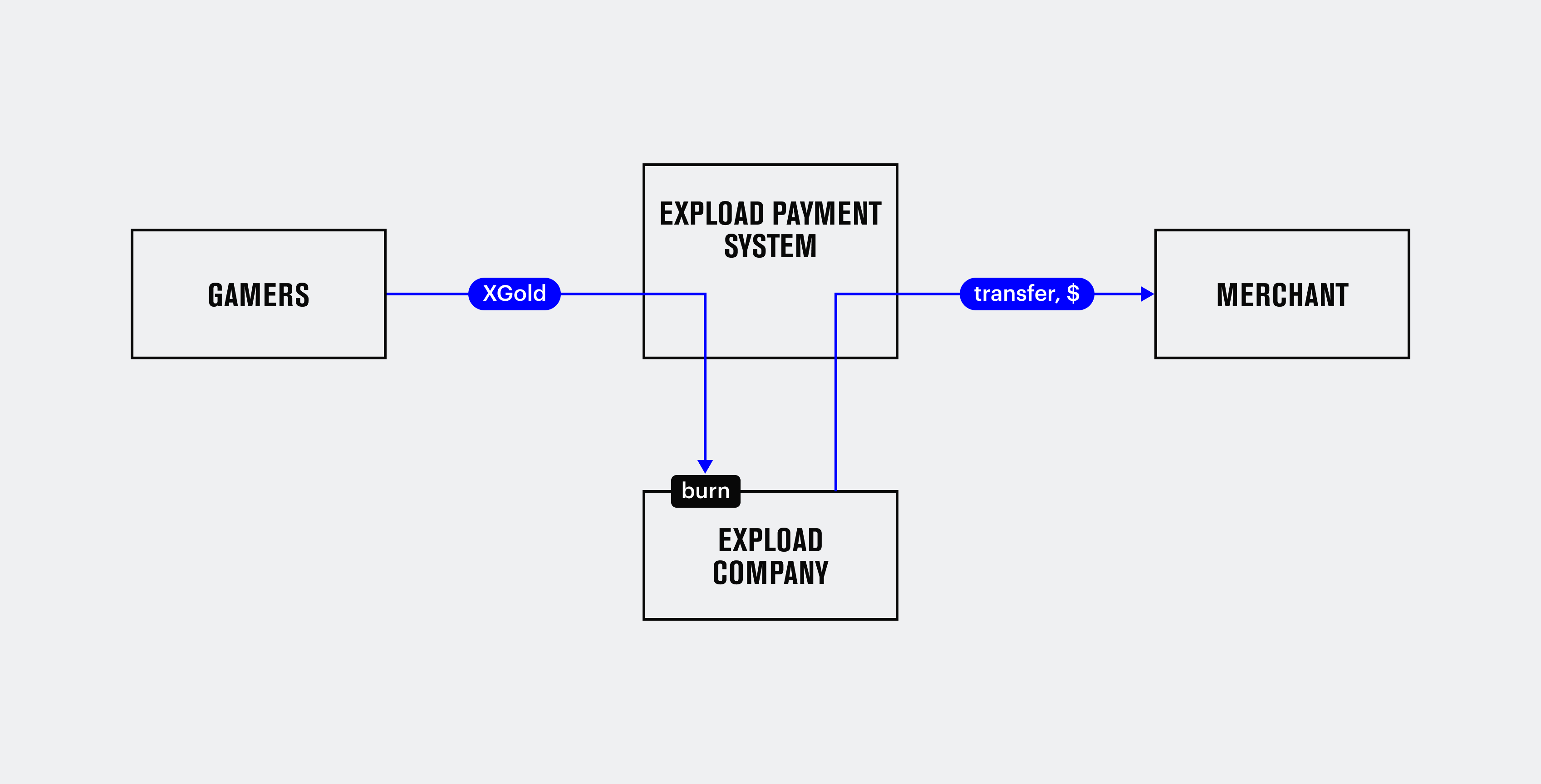 XPlatinum
The Expload platform also has XPlatinum cryptocurrency in circulation. It can be used for making purchases on the marketplace and paying fees for the performing of transactions on the Pravda blockchain. Expload does not sell XPlatinum for fiat money, nor provides tools for gamers and developers for XPlatinum withdrawal into fiat. XPlatinum and items purchased for XPlatinum cannot be exchanged for XGold or XTrophy. Users can buy and sell XPlatinum on their own by using third-party exchanges.